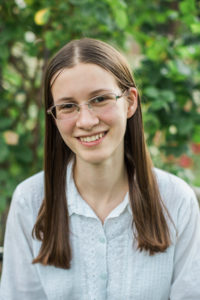 My name is Cynthia Sleight, and I have always been interested in words. Since I was a young girl, I have loved reading and writing. Now, I am putting that passion to work as an editor and virtual assistant.
In June 2018, I completed my certificate in editing at the University of Washington. I have also sought out extra professional development, attending boot camps by the American Copy Editors Society (ACES) and conferences by the Editorial Freelancers Association (EFA).
In college, I became familiar with a range of subjects. I graduated cum laude from Seattle Pacific University as an honors student in 2015, with a major in Linguistics and Cultural Studies and a minor in Spanish. I began my studies in Chemistry, but switched in my second year as I realized my interests lay elsewhere. I played viola in the orchestra and sang in the women's choir, and I have not stopped either playing viola or singing.
My experience, like my education, is somewhat broad. I have worked with nonfiction, research, newsletter, and blog texts. I have edited things as short as a few hundred words and as long as a book.
I continue to research and learn in my spare time, with projects like researching gastropods with my children or reading a report on gender-neutral trends in Spanish (written in Spanish). Learning is a passion, and I don't intend to be done any time soon.