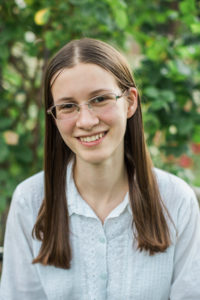 My name is Cynthia Sleight, and I have always been interested in words. Since I was a young girl, I have loved reading and writing. Now, I am putting that passion to work as an editor.
Over the past few years, I have been working and learning in the editing field. I have attended boot camps by the American Copy Editors Society (ACES), about both general editing and editing for the web, and I have attended the Editorial Freelancers Association (EFA) conference. I am now studying for a certificate in editing from the University of Washington, to be completed in June 2018.
My college education has provided familiarity with a variety of subjects. I graduated cum laude from Seattle Pacific University as an honors student in 2015, with a major in Linguistics and Cultural Studies and a minor in Spanish. I also began my studies in Chemistry, but switched in my second year as I realized my interests lay elsewhere. I played in orchestra and sang in a choir, both of which I still do, in my spare time.
Since college, I have edited blog posts and web pages. I have learned how to present information clearly and concisely, in ways especially suited to electronic media.
Like in any other field, I understand that I will never be done learning. Editing text well requires a solid grounding in the English language, so I read books frequently.